Recently, we have become aware of websites, email addresses and social media accounts using our company name without permission, including "Nikko Asset Management", "Nikko AM" or deviations thereof.
We are also aware of instances where companies or individuals falsely claim to be employees, officers or otherwise affiliated with Nikko Asset Management, our subsidiaries or our affiliates. We are posting this notice as an effort to ensure the safety and security of our valued clients and staff.
Please beware that fraudsters may employ various means, such as fraudulent emails, phone calls, online messages, and social media platforms, to impersonate our company or affiliates and to prompt you to provide sensitive personal information or financial information. They are also attempting to approach investors for the unauthorized sale of equities, fixed income securities, cryptocurrencies (virtual currencies), etc. They may use sophisticated tactics to make their communications appear genuine, such as replicating our logos and using photos of our officers, employees and/or other prominent persons. Please be aware that Nikko Asset Management or our affiliates will not directly solicit individual investors to buy or sell individual stocks, bonds, cryptocurrencies (virtual currencies), etc.
Be aware that accessing these sites comes with risks such as the potential of being exposed to a computer virus, theft of personal information, or investor fraud. Please confirm the URL in your browser that the site is legitimate. All of our official website URLs end in nikkoam.com, nikkoam.co.nz, nikkoam.com.sg, nikkoam.com.hk or nikkoam.de. Our official English language social media accounts linked here on LinkedIn and Facebook.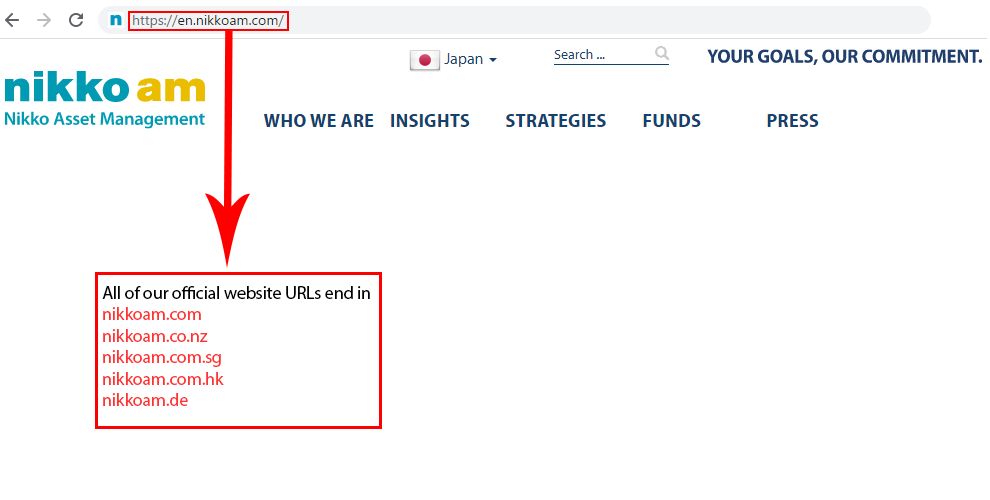 One recorded example of an impersonator is the domain "@au-nikko.com". This domain is not affiliated with Nikko AM, so please be careful.
We remain committed to safeguarding and maintaining a secure environment for our valued clients. If you have any concerns or suspect any fraudulent activity, please get in touch with us using our contact information on our website.